Recovery Coaching | SOBER COACH
SOBER COACHING & RECOVERY COACHING SERVICES
Why Hire A Recovery Coach or Sober Coach?
Establishing a recovery path and navigating the first year of recovery is not always easy.  A Recovery Coach /Recovery Mentor also called a Sober Coach, will help you establish your own personal recovery goals, and provide support, and accountability so you can achieve your sobriety goals. Working closely with a recovery coach or sober coach will help you avoid pitfalls that can lead to relapse. 
Our goal is to help you get comfortable and confident with being clean and sober.  We will help YOU create a life where YOU want to live sober & clean for the long haul, and even have some fun along the way!
Addiction Specialist & Recovery Coach Mary Fredericksen Talks About Recovery Coaching & Sober Coach Services
WHEN IS A RECOVERY COACH / MENTOR NEEDED?
You have tried on your own to achieve abstinence and have had difficulty in doing so.
You have recently been discharged from a residential treatment program and you need help in navigating early recovery.  You recognize that you would benefit from additional accountability and support so you can achieve your goals.
You have social anxieties.  You recognize how these contribute to your difficulties in forming connections with others, or completing tasks that will contribute to your recovery success.  The opposite of addiction is connection. Your recovery coach / sober coach has years of experience working with people that struggle in this way.  We will work hard to develop and earn your trust.  You will quickly feel like you have a partner you can rely on and depend on during this phase of your recovery process.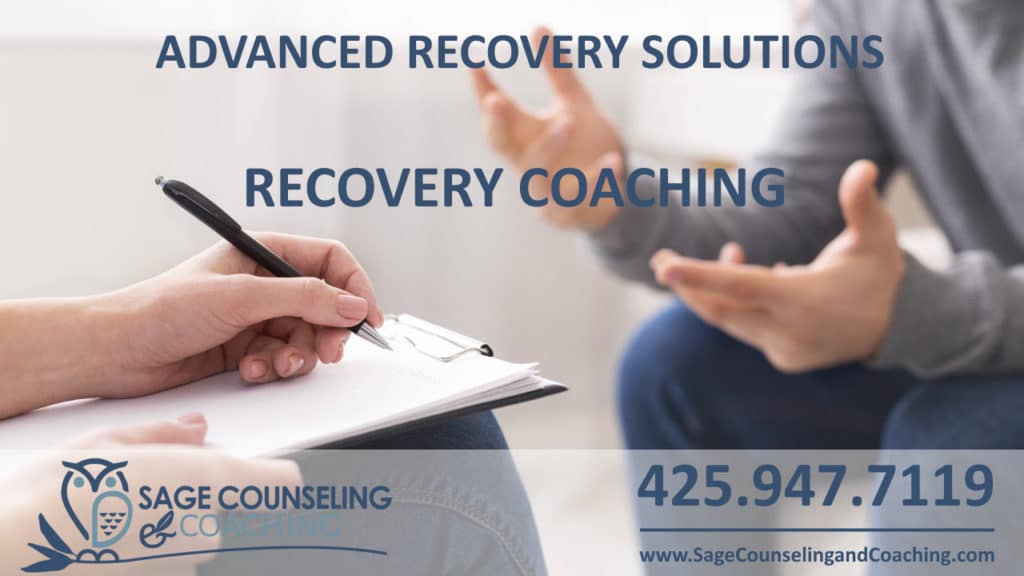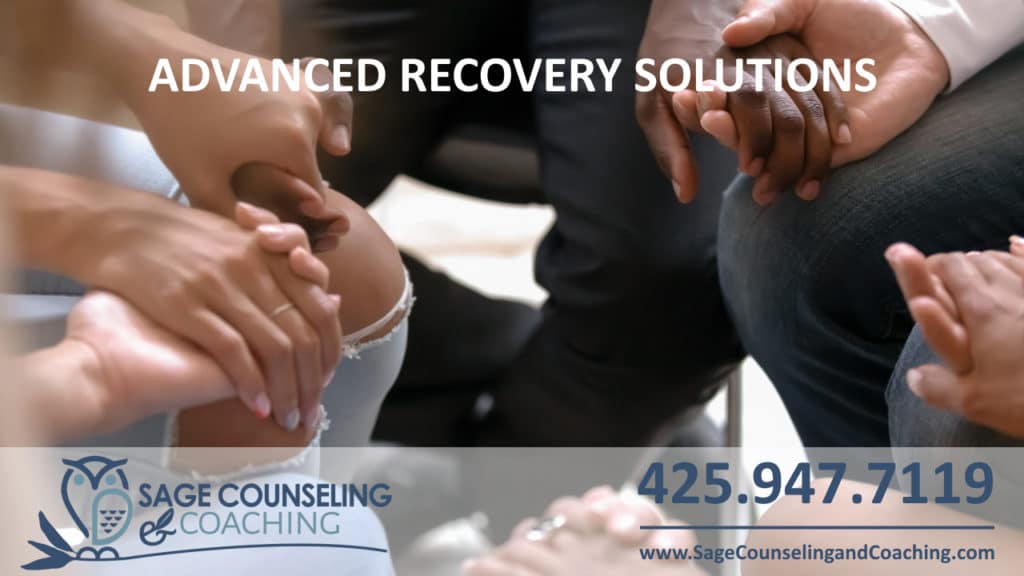 WHAT SERVICES DOES A RECOVERY COACH OFFER?
Helps establish recovery goals and a plan of action.
Meets in person or virtually up to three times per week.
Maintains regular contact with client via text or phone.
Monitors random urinalysis testing, which will be required.  This removes that burden from a family member.
Involvement with family healing.  If family healing is part of the patient's plan, the recovery coach will help establish how the family can be involved.
Updates progress to anyone that may be requesting a status report, as long as the client has signed a consent to do so.
Offers guidance in developing new behavior patterns that support recovery and help the client objectively recognize their progress.
Connects them with resources and support that will contribute to their long-term success.
Identifies with the client, which goals they personally need additional support with.  This may include:

Attending support group meetings with the client, going shopping, running errands, going to the gym, helping the client get signed up for school, helping with a resume, or finding a job. Your coach may attend these activities with you to help gain confidence in any of these areas.
You no longer have to feel alone.  It's empowering to have someone in your life that understands the impact of the disease of addiction. Our Recovery Coaches a here when you are ready to make a change.
Please call Sage Counseling and Coaching so YOU can get the support you deserve and need with a Recovery Coach. 
(425) 947-7119
Recovery Coaching & Sober Coach Services
Our Recovery Coaching Services Are Available Throughout Washington, Alaska & Hawaii
Washington Recovery Coach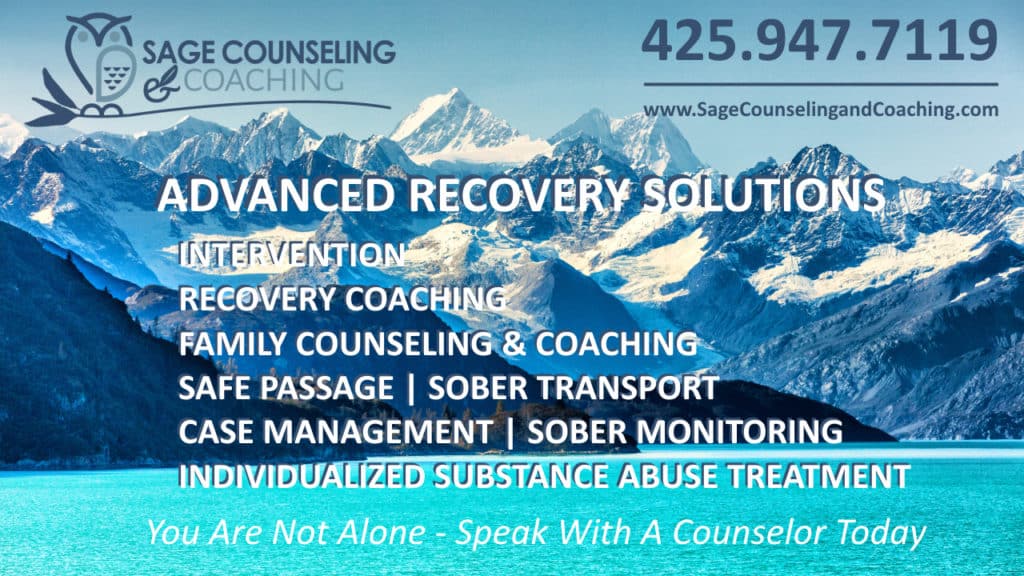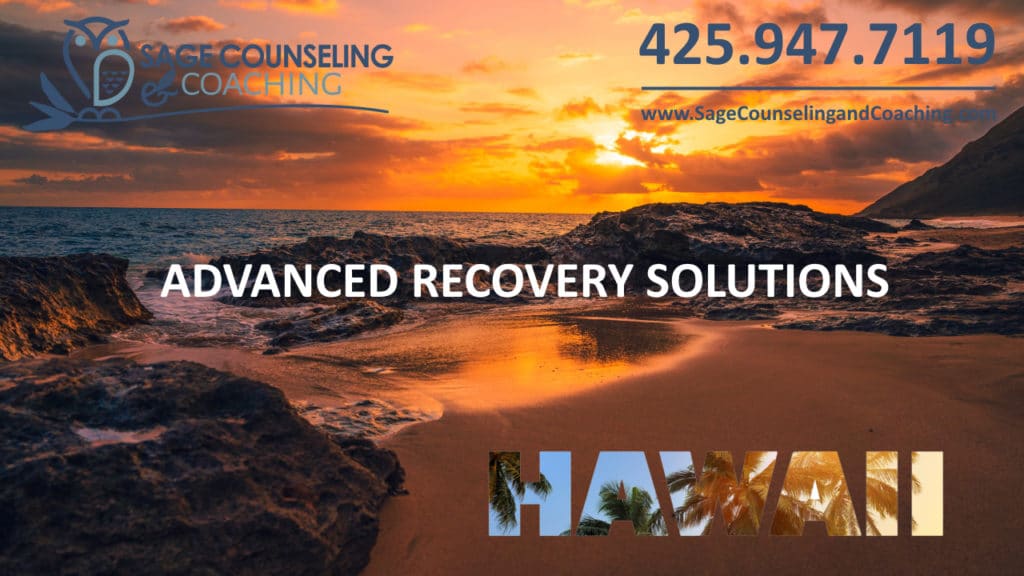 Recovery Coaching in Washington
Drug and Alcohol addiction and substance abuse Recovery Coaching services in Washington including Issaquah, Seattle, Bellevue, Redmond, Kirkland, Renton, Federal Way, Tacoma, Kent, Olympia, Vancouver, Everett, Lynnwood, Burien, Auburn, Lacey, Sumner, Bonney Lake, North Bend, Monroe, Mount Vernon, Edmonds, Woodinville, Bothell, Bellingham, Spokane, Wenatchee, Leavenworth, Yakima, Walla Walla, Kennewick, Tri-Cities, Ellensburg, Chelan, Moses Lake, and throughout Washington State.
Recovery Coaching in Alaska
Drug and Alcohol addiction and substance abuse Recovery Coaching services in Alaska including Anchorage, Fairbanks, Juneau, Ketchikan, Wasilla, Sitka, Kenai, Palmer, Kodiak, Bethel, Skagway, Homer, Valdez, Seward and the rest of Alaska.
Our drug & alcohol addiction interventions in Alaska are done remotely via private and secure online Tele-Health appointments.
Recovery Coaching in Hawaii
Drug and Alcohol addiction and substance abuse Recovery services in Hawaii include the islands of Oahu, Maui, Kauai, Lanai, Molokai, and the Big Island of Hawaii and the cities of Honolulu, Kihei, Kahului, Lahaina, Kona, Hilo, Lihue, Kailua-Kona, Poipu, Waimea, Wailuku, Waikiki, Waimanolo, Kailua, Haleiwa and more.
Our drug & alcohol addiction interventions in Hawaii are done remotely via private and secure online Tele-Health appointments.